If you missed our last post, we're currently working on furnishing a nursery. Good news - it has a floor! We have paint picked out, Baby D's dresser is done, and new windows and carpet should be going in shortly. While Chad was finishing the manual labor projects, I spent a couple of sleepless nights making a quilt....er, blanket....for D. It's not really a quilt, because I didn't "quilt" any of it. But it is a nice, heavy well-made blanket that's double-sided and edged with satin.
 DIY Minky Satin-Trimmed Baby Blanket
[caption id="" align="aligncenter" width="570"]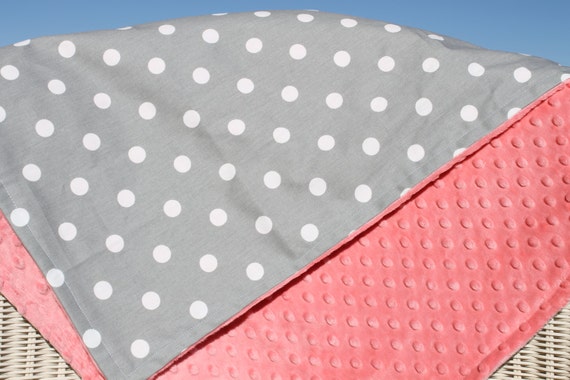 I found this inspiration while shopping Etsy. I loved the coral, gray and white combo and decided I am good enough at sewing straight lines with my sewing machine to take on a blanket.[/caption]
Skill level: Some sewing experience. I once followed a tutorial for making my own grommet curtains, and I have sewn a duvet cover and some pillow covers. None of which I would have considered high quality enough to sell to someone else, but good enough for us!
Cost: More than buying it off Etsy. Likely because I didn't have time to shop for the best deals on fabric, nor was I buying in quantity. The gray chevron minky was particularly expensive, and I couldn't find it at any of the "box" stores so had to custom-order online. Time: Not much. Will vary depending on your sewing skills, but I'd say 2 hours, tops. I worked on it for 20 minutes here and there when I couldn't sleep.
Supplies:
White thread 45" square of fabric for each side Sewing machine Pins Satin Blanket Binding (I purchased at Hancock Fabrics)
We already had the coral fabric because I plan to make curtains for D's room from it - I bought extra in case I decided to make an extra set to sell in the store, or to do small projects with...like this blanket!
Chad and I stopped in at Hancock Fabrics one day to grab some minky. He had no idea what "minky" was - and for those of you who also don't know - it's SUPER soft fabric that feels like it sounds. People even make cloth diapers out of this stuff, it's so soft! I showed him the options, and he didn't like the dotty minky (like in the inspiration photo). This guy has something against polka dots in general.... So I found the chevron stuff online!
I figured I didn't even need a pattern to re-create the inspiration photo. Pin the "good" sides of the fabric together in a square, sew 90% of it together, turn it inside out so the "good" sides were out, and sew about 1/4" in from the edge to finish. Bam.
But, I wanted a nice, satiny edge, too! Babies love satin, right? I want this to be "the" blankie that D loves and keeps until it just won't keep together any longer...so I found this inspiration: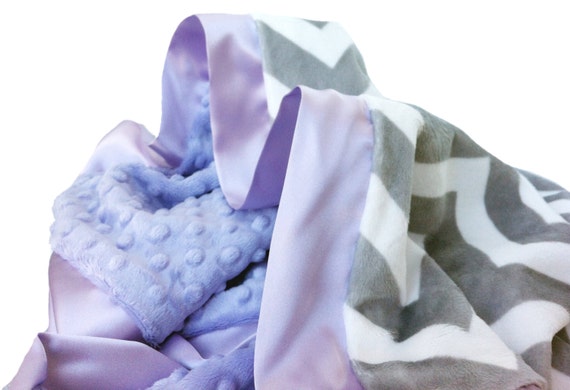 And then I found this tutorial online, which I followed step-by-step (with the exception of her fabric choices, obviously).
[caption id="attachment_547" align="aligncenter" width="665"]
How gorgeous is the bassinet my Mom found us, too? Chippy white paint (don't worry, it's been sealed with zero-VOC clear sealer to prevent any lead paint issues) and original wood. We <3 it![/caption]
I am sooooo happy with how it turned out! Halfway through adding the satin trim, I showed Chad - and even he was impressed. He said something along the lines of "family heirloom."
  The best part? It matches her new dresser so beautifully. Here is a sneak peek at the dresser - which is another blog post waiting to be finished. It's obviously a work in progress in this photo, but you can clearly see the finished color on 3/4 of it!
What projects did you work on last weekend?