We were very low key this year for the holiday weekend. We mostly stayed home, hung out with our neighbor friends, had a little BBQ and watched some sweet fireworks right from our front lawns. We also spent some time planning our upcoming Bucket List trip to Switzerland in August.
My favorite part of any party or celebration is cooking, baking, making food and drinks. Chad has become the neighborhood bartender, and I just love trying fun, new recipes.
Here are a few we used this weekend:
Firecracker Champagne Paloma - Halfbaked Harvest 
Image credit: Halfbaked Harvest
We all agreed this was a perfect summer drink, especially while we were sitting outside in the 92 degree heat! It was refreshing, interesting, and delicious! Chad added a bit more sugar than the recipe calls for, but if you prefer the sour grapefruit zing, you can follow the recipe exactly. 
Red, White and Blue Cheesecake Salad - The Slow Roasted Italian
Image credit: The Slow Roasted Italian
Probably one of the best things I've ever eaten - our neighbors asked us to leave some behind in a tupperware for them, it was so good. This was a bit more like a pudding than a "salad," even if you're used to jello salads at family functions. The sauce also made much more than was necessary for the dish - I poured it all in, and the fruit was buried, but no one complained. The sauce is definitely the best part. Lastly, I used vanilla instant pudding because my local store didn't have cheesecake-flavored pudding, but I imagine that would have made it even better!
Parmesan Dill Potato Salad - Will Cook for Smiles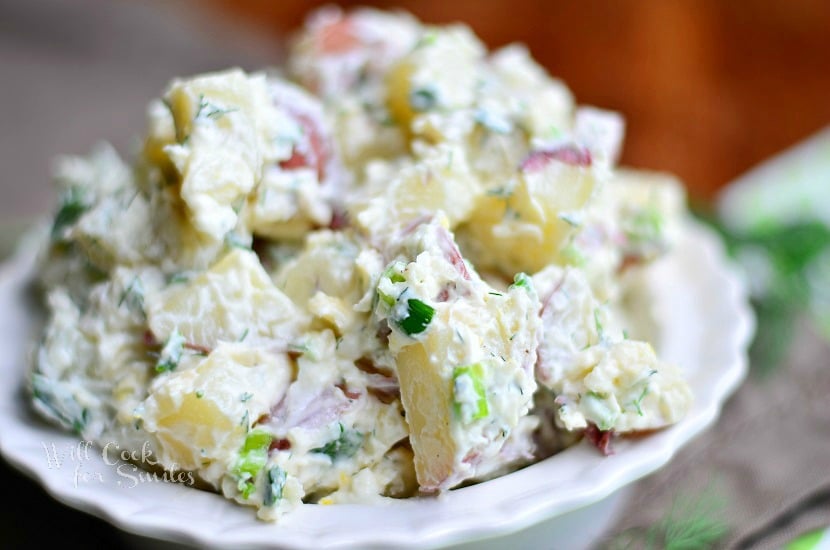 Image credit: Will Cook for Smiles
Chad called this "fancy potato salad." There aren't many things I don't eat, but mustard is the top of my "despise it" list, so I always try to find potato salads without mustard. I broke my own rule for this one, because it does have 2t of dijon, but you can't really taste it. I cooked the potatoes the night before, and let them sit in the fridge uncovered overnight - which created a great texture & firmness. The shaved parm was a great touch, but when I make this again, I'll leave out the sour cream and do more mayo. It was lacking that kick from the mayo, and was a bit more bland than I'd hoped (even with some extra dill added). I'd definitely make it again with a few tweaks!
We got the easy end of the food deal this weekend. Our neighbor Samantha Lewis Photography and her husband smoked a pork roast, chicken wings, chicken lollipops and hosted us at their house. Their sweet boy broke his arm this past week, so we did a lot of activities that he could do with just one hand, like making bead bracelets, American flag painting kits, and playing hide and seek. 
I hope you all had an amazing 4th as well - leave me your recipe links in comments if you have a favorite summer drink, appetizer, or dessert!
xoxo,
Brandy